INCREASE SALES WITH GREAT CUSTOMER SERVICE
Twenty years ago, whilst living in Aberdeen, I visited my local jeweller to get a new watch battery fitted. I received a very friendly welcome. When I asked advice about the watch bracelet being slightly too big for my wrist, the jeweller removed a link with no charge for this service. This took only a couple of minutes but I appreciated it tremendously. I went back there repeatedly for the next 20 years to buy jewellery, gifts and for any watch repairs that I needed. I also recommended him to absolutely everybody that I knew. This is an example of how offering great customer service is invaluable to help increase sales for the small retailer.
My local chemist in the village where I live now is another case in point. He offers a gift wrap service for free, lengthy and helpful consultations with the pharmacist, free delivery of prescriptions to the elderly and he and his staff always recommend own brand products when applicable to save the customer money. The result? A thriving and busy local business which is loved by all.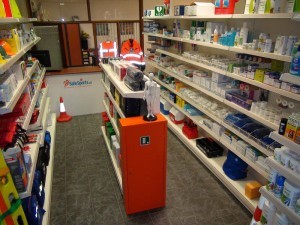 We all remember good service and it has a huge knock-on effect on sales.This is why it is so important for all shops to give great customer service. This will encourage returning customers, build trust and loyalty and inevitably increase sales. Good staff training is also essential, the retailer must be confident that all staff will offer the same consistent level of good customer service.
10 Tips for Great Customer Service
Smile and have good manners, address customers  in an age appropriate manner
Display good product knowledge
Don't say "I don't know", say "I will find out"
Listen carefully, anticipate needs
Take customer to product when asked, rather than just giving directions
Offer a freebie, whether it be a small item or service, it will be remembered
Acknowledge people waiting to be served, call someone to help to ease queues
Don't judge a book by its cover, every customer deserves the same level of respect
Stay visible and available but don't breathe down customers' necks
Remember that you exist only because of your customers
At South West Shopfittings we pride ourselves on our customer service, we try to give the level of service that we would like to receive ourselves. Large or small, every order counts to us. We are always happy to give advice and when it comes to price, quality and availability, we believe that we are second to none.