Useful Information - Shelving Megastore
How do I know what shelving I will need?
First you will need to determine the length of shelving you require and in how many runs, all our shop shelving is designed to fit together in a continuous run so you will need an end of run leg to complete each run.

You will then have to decide on the height that you need, sizes available are 1400mm, 1600mm, 1800mm, 2100mm, 2400 mm. All wall shelving units require a base shelf, make sure you leave plenty of space for customers to move around, including space for pushchairs & wheelchairs. Finally determine the quantity and the sizes of the shelves that you need and the type of back you require, such as perforated back panels.
What is an End of Run Leg?
An end of run leg (sometimes called a finisher or finishing leg) is required to complete each separate run of shop shelving. Our shelving is designed to join together to make continuous runs and each unit is supplied with one upright and base leg.

For Example: 3 units/bays to stand separately would need 3 finishers/end of run legs, 5 units/bays joined in 1 run would need 1 end of run leg.
I can't see exactly what I want, can you quote for my exact requirements?
The shelving bays shown are simply examples of what is possible, if you want different shelf configurations, more or less shelves, some peg back panels, please contact us and we can supply you with a custom quotation
I'm not sure what I need can I send you a plan of my shop and ask your advice?
Simply e-mail us a plan of your premises, remembering to include any special requirements such as access to electrical sockets, pipes etc. and the type of products you wish to display and we will advise you on the best shelving layout to suit your requirements.
We would work out your requirements based on the measurements you have given us, it is your responsibility to ensure accurate measurements are supplied, we cannot take responsibility if any goods ordered do not fit exactly.
Can I collect my order from you?
Yes you can, but certain products are delivered direct from the manufacturer and are not stocked in our warehouse, just give us a call and we can confirm if it is possible and we will have your goods packaged ready for you.
How do I pay for my order?
We accept all major debit and credit cards online or over the phone.
You can pay by electronic bank transfer, goods would not be shipped until payment has cleared
Alternatively you can send us a cheque, goods would not be shipped until payment has cleared
Can I use separate billing and delivery addresses?
Yes, just give us the delivery details and the order will be sent directly to that address.
Do you offer any discounts?
All of our products are offered at very competitive prices, discounts may be available for large orders, please phone us to discuss further.
How will my goods be delivered?
We offer cost effective delivery by a pallet network to kerbside only – if ordering heavy items it is your responsibility to ensure you have someone with you to move the item into your premises, the driver will be unable to move them for you.
Delivery is usually within 3 working days from dispatch
We can arrange for next day delivery if you need your goods quickly but this will incur additional delivery costs
All items must be checked on arrival, signing unchecked will not be accepted for any damages that are then found after receipt of delivery and therefore replacement parts cannot be sent out free of charge.
All goods are delivered during standard working hours i.e. 9am to 5:30pm Monday to Friday, please make sure somebody will be there to accept delivery, otherwise re-delivery charges will apply.
You must advise us beforehand if there are any entry restrictions to the delivery address as the goods will most likely be delivered on a large HGV lorry.
Delivery Areas
We can deliver to all locations in the UK and worldwide, the table below will show which products can be delivered using our website delivery prices, if you are out with these areas the website will offer to save your basket and allow you to input the desired delivery address so that we can quote for delivery.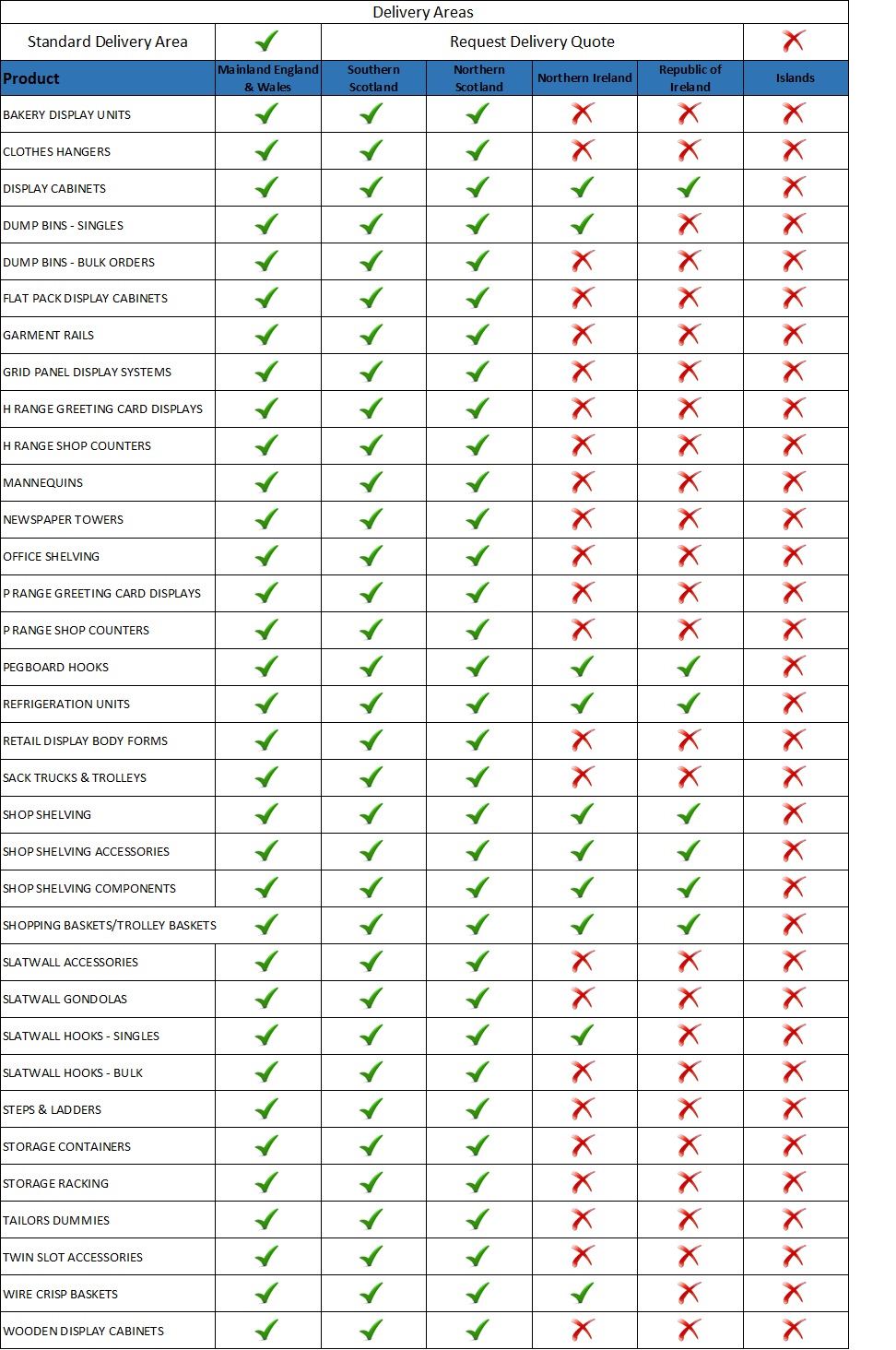 style="">
Do you have everything in stock?

We hold a large stock of retail shelving, shop fittings equipment and some other items, most other products such as shop display cabinets and storage racks and industrial shelving are in stock at our suppliers for immediate dispatch directly to customers. Some items such as counters, greeting card units and some display cabinets are made to order and will take approximately 2-3 weeks to deliver, sometimes sooner.
Do the shelving units come ready made?
No, all shelving units/bays require self-assembly, the process is very simple but we do have instruction videos on our web site should you require any clarification.
Do you offer an installation service?
No, we can supply all of your shop fitting requirements but all of our products are very easy to assemble. We work closely with some shopfitters around the country and may be able to recommend a fitter in your area, please contact us for details. We also have assembly instructions and videos on our web site, alternatively you can give us a call and we can talk you through the process.
Do I have to pay VAT?
Yes, VAT is payable at the UK standard rate on all of our products and on the delivery. If you have a valid EU Vat number outside of the UK we can supply at zero rated VAT, for exports worldwide and the channel islands we can also supply at zero VAT.
Do you export shop shelving?
Yes, we can arrange export to Europe and Worldwide, call or email us for a quote. If you add your requirements to your shopping basket and choose worldwide shipping the system will offer to save your basket and request a shipping quote.
Price Promise
We endeavour to sell top quality products at the best prices in the UK, in the unlikely event you find the same product at a lower price we will try to match or beat the price you have been quoted.