Expo 4 Boltless Shelving
Expo 4 boltless shelving is as easy as 1 - 2 - 3 to assemble and has been sold to thousands of satisfied customers since it was launched 23 years ago. The possibilities for the Expo 4 system are almost endless with a huge range of accessories available.  Expo 4 can even be designed to support a walkway above or even a floor above, a two tier installation allows items to be picked from the shelving on two levels (contact us for details).
The unique friction steel clip and shelf design of Expo 4 means the racking can be assembled in minutes without the need for nuts and bolts.  Shelving bays can be supplied either open sided or clad.  
Key Features and Benefits of Expo 4:

Strong and Versatile Shelving
Massive range of accessories
Easy to assemble boltless system
Open or Clad bays available
Starter (2 end frames) and extension (1 end frame) bay system
Heights available: 2000 mm, 2200mm, 2500 mm, 3000 mm
Depths Available: 300 mm, 400 mm, 500 mm, 600 mm
Widths Available: 700 mm, 1000 mm, 1150 mm
Shelf pitch every 25 mm
Huge Stocks available for immediate dispatch
High quality Epoxy powder paint, blue RAL5010 uprights, Grey RAL7038 shelves
Easily dismantled and re-configured
Bay loads up to 2500 kgs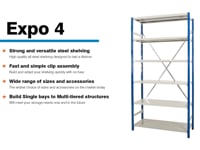 Assembly Instructions
Click above to view our assembly video. To download the assembly instructions please click on the file below.
Assembly instructions