Expo 4 With Shelf Trays
Ideal for small parts storage, the Expo 4 rack system with shelf trays is a versatile high density storage system. The innovative spring loaded shelf stop on each shelf tray allows the shelf to be pulled out approximately 90% and remain suspended allowing clear product picking, in addition the stop can be used as a handle when carried. All shelf trays come with labels and tray dividers are available as an additional option for additional product segregation.
Features and Benefits
Size (mm) 2000 (H) x 1000 (W)




Depth choice of 300 mm, 400 mm, 500 mm




Shelf trays complete with Label and shelf stop/handle




Optional tray dividers available
---
Trays Per Unit (qty, size(mm))
A - 16 (117x90), 12 (234x90), 12 (234x140)
B - 64 (117x90)
C - 32 (234x90)
D - 28 (234x140)
E - 32 (117x90), 16 (234x90), 20 (234x140)
F - 120 (117x90)
G - 60 (234x90)
H - 44 (234x140)
---
Fantastic value
from only
&pound419.07 ex vat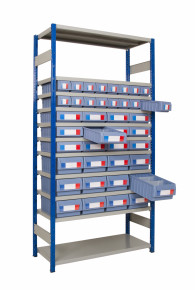 Price Match Guarantee
More Information
If you would like more information about this product contact us.