Pegboard Shop Counter - Modular
The modular pegboard shop counter is built around our SWSF modular shop shelving, this means that the counters can be joined together to provide custom lengths and configurations. This allows different types of POS counters to be combined to create the most suitable retail display for your shop.
The front of the pegboard counter comes with two 400mm perforated panels and a 470mm base shelf with an epos strip. On the rear is there is 1 x 300mm upper shelf, there is no base shelf included for the rear, this can be bought separately if required. Pegboard hooks for this counter are available here.
These modular retail counters stand at approximately 1200 mm tall when assembled (depending on the feet adjustment), for a lower height please contact us. The counter top is made from heavy duty marmoleum with a solid wood edging. The counters are sold as free-standing units and extension units, each individual counter run will require 1 free-standing counter and then the desired number of add on units to make up the overall counter. Counter lengths quoted are the length of the modular shelving units so the counters will be slightly longer than the sizes quoted.
Our modular shop counters are normally held in stock so offer a readily available, strong and practical retail counter solution, a shopfitter look at a fraction of the price.
Fantastic value
from only
&pound168.53 ex vat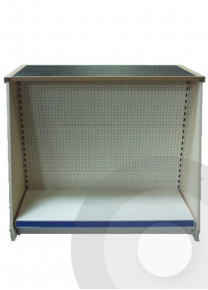 Price Match Guarantee
More Information
If you would like more information about this product contact us.