Clicka 265 Shelving System
The Clicka 265 shelving system is easy to assemble with no need for any nuts and bolts. Simply use a mallet to tap beams into position then lay on the MDF decking. Clicka 265 comes at a height of 1770mm and shelf loads are 265kg. Each bay comes with five shelves.
Clicka 265 shelving has been fully tested and certified for added peace of mind.
Fantastic value
from only
&pound61.93 ex vat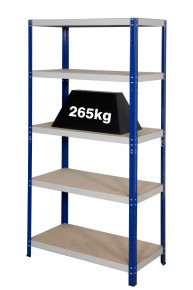 Price Match Guarantee
More Information
If you would like more information about this product contact us.