Full Height Chrome Wine Rack with Under Storage
This stylish chrome wire wine rack comes with two standard shelves, four wine shelves and four uprights of height 1590mm. Each 915mm wine shelf holds nine bottles and the 1220mm wine shelf has capacity for twelve.
Fantastic value
from only
&pound160.88 ex vat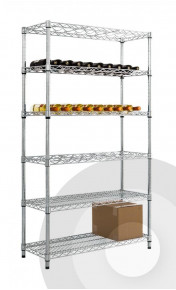 Price Match Guarantee
More Information
If you would like more information about this product contact us.