Medium Promo Shelving End Bay - Low (Base + 3)
The medium shelving low end bay is a very popular size end bay for most types of shop, combining good product display capacity whilst not taking up too much space. The end bay is like a wall bay but it has back panels on both sides to make it suitable for placing on the end of the gondola shelving. This medium promo end bay comes with a 470 mm base shelf, 3 x 370 mm upper shelves, back panels both sides, a choice of coloured epos ticket strips, top cover and a plinth. Although it is called a low end bay, this is because it has only 3 upper shelves, it can be bought in any height. Configure the epos colour, shelving unit height and shelf length in the options below. SWSF® shop shelving is not only compatible with other 50 pitch shelving systems, in most cases it equals or exceeds them in quality and specification.

Fantastic value
from only
&pound91.68 ex vat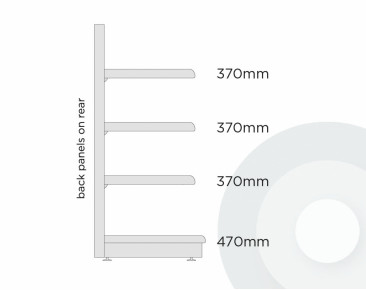 Price Match Guarantee
More Information
If you would like more information about this product contact us.