Shallow Gondola Shelving - Low (base + 3)
The shallow low gondola shelving is ideal for small shops such as convenience stores where space is at a premium. Using these shallow gondola shelving units may make it possible to increase the aisle width for your customers or possibly fit an extra aisle gondola shelving in your shop. Each unit comes complete with two 370 mm base shelves and six 300 mm upper shelves, coloured epos strips, two kick plinths and a gondola top cover. Select the desired epos colour, height (despite being called low gondola, all heights are available) and length in the menus below. SWSF® retail shop shelving is not only compatible with other 50 pitch shelving systems, in most cases it equals or exceeds them in quality and specification.
Fantastic value
from only
&pound136.84 ex vat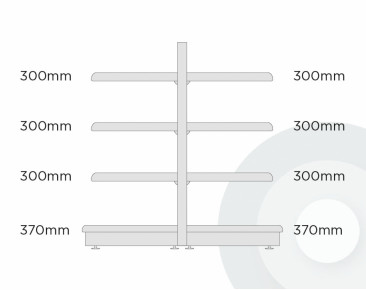 Price Match Guarantee
More Information
If you would like more information about this product contact us.