Wall Shelving End of Run legs
A wall end of run leg consists of an upright and a base leg, every separate run of shop shelving requires one end of run leg. For example 1 standalone shelving bay requires 1 end of run leg, if you are joining 4 wall shelving units together then you still only require 1 end of run leg for these 4 units, but if the 4 units were being split into 2 runs of 2 bays you would need 2 end of run legs. Sometimes end of run legs are called finishers or finishing legs. As all our shop shelving is designed to join together to create continuous runs of shelving each wall shelving unit is supplied with 1 upright and base leg, this is common practice with shop shelving, because if each unit was supplied with 2 uprights and base legs then there would usually be lots of parts left over. If you need any help with deciding how many and what type of end of run legs you require, just give us a call (01752 829467) and we can help you.

Fantastic value
from only
&pound17.76 ex vat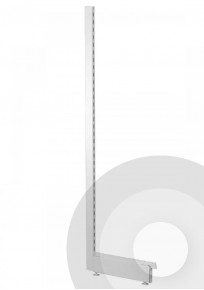 Price Match Guarantee
More Information
If you would like more information about this product contact us.