Crisp and Confectionery Counter - Modular
This modular crisp and confectionery counter is created around our SWSF retail shelving, meaning that these counters can be joined together to provide customised lengths and configurations. It is possible to join any combination of these modular counters together to create the desired retail display. For example if you wish a 3 metre long counter you can join a 1m confectionery counter to a 1m crisp / confectionery counter and a 1m pegboard counter, giving tremendous flexibility to display, for example, chocolate bars on the shelves, crisps and snacks in the baskets and bagged sweets on peghooks.
The front of the crisp and confectionery counter comprises 1 x 470mm base shelf plus 1 x 370mm and 1 x 300 mm upper shelves all with plastic epos pricing strips. The top 2 front shelves also include wire risers. Upper shelves can be tilted downwards, if required. In addition there are two rows of wire crisp baskets. On the rear there is 1 x 300mm upper shelf, there is no base shelf included for the rear, but this can be bought separately if required.
These modular counters stand approximately 1200 mm tall when fully assembled (depending on adjustment of the feet), if you require lower then please contact us. The counter top is made from extremely durable marmoleum with solid wood edging. The counters are sold as free-standing units and extension units, each individual counter configuration will need one free-standing counter as a starting point then the desired number of add on units to make up the overall counter. All sizes are nominal and the counter lengths quoted are the length of the modular shelving units so the assembled counters will be slightly longer than sizes quoted.
Our modular shop counters are usually a stock item for quick dispatch. This sturdy and practical retail counter provides a cost-effective professional look.
Fantastic value
from only
&pound212.09 ex vat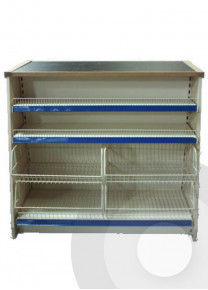 Price Match Guarantee
More Information
If you would like more information about this product contact us.